Home to the granite tower-like mountain peaks that have become the unmistakable poster image of Patagonia, Torres del Paine National Park is perhaps the region's most coveted destination. Beyond the mesmerizing rock formations, the park encompasses deep valleys, thick forests, turquoise lakes, giant glaciers, and vast steppes. Its jigsaw puzzle of impressive landscapes makes Torres del Paine one of the best places to hike on Earth. 
But while many come here to challenge themselves to the stupendously scenic W Trek and O Circuit, there are many other adventurous ways to explore the park too. In this article, we have lined up a list of the very best Torres del Paine tours and excursions to inspire you to create your own tailored trip in 2023. While some challenge the mind and body, others allow you to see the sights without having to put on your hiking boots, making it accessible to everyone. So, let's find out how you would like to remember Torres del Paine.
Torres del Paine Hiking Tours
The W Trek
Let's begin with the most famous and epic tour in Torres del Paine, the W Trek. The 4-5 day route snakes along three parallel valleys (forming a 'W' shape) — the Ascencio, French, and Lago Grey. Each of these is home to one of the park's three most iconic sights. The first is the piercing granite towers from which the national park gets its name. The second? A breathtaking viewpoint of the French Valley's undulating green-carpeted valley floor with a wall of granite rocks towering around it. Upon completing the hike, you'll come face-to-face with the immense Grey Glacier. At night, hikers can choose to camp or stay in refugios (public shared dorms). However, you can ask us about our glamping yurts and other luxury alternatives.

How challenging is the W Trek?

Overall, the W Trek is 40-50 miles (65-80 km) long with a maximum elevation gain of 800 meters, which requires about 5-7 hours of hiking per day. While the W Trek is not technically difficult, it does require a good fitness level to endure multiple days of hiking. As long as you know what to expect, even beginner hikers can complete it.

The O Circuit

The O Circuit is a 7-9 day trek that starts by looping north from the beginning point of the W Trek (Refugio Las Torres) to the end (Refugio Paine Grande). Along the way, the trail ascends 900 meters to reach the John Gardner Pass which promises epic views over the Grey Glacier's ice field before descending to walk alongside it. After reaching Refugio Paine Grande, the trail follows the W Trek route in reverse through the three valleys to complete the circuit at Refugio Las Torres. Being longer and steeper than the W Trek, the O Circuit is considered more challenging. However, the greater challenge, the greater the reward! Not only does the O Circuit tick off Torres del Paine's most famous sights, but it also covers the park's lesser-seen like Paine Grande and Lake Pehoe too.
The 1-Day Hike to the Base of Torres del Paine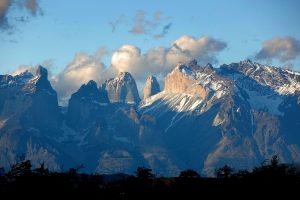 Although Torres del Paine is known for its bucket-list multi-day hikes like the O and W Trek, it's possible to hike to the famous granite towers in just one day. Taking 8-9 hours overall, the hike begins with a 4-hour peaceful and easy walk through the mystical Lengas Forest on the Ascencio Valley floor. At the end of the valley, you will climb a glacial moraine to reach your destination: the iconic base of Torres del Paine. After stopping for a while to take in the views, snap some treasurable photos, and devour a well-earned picnic, you'll begin the three-hour descent back to the park entrance. Despite a mildly challenging climb up a glacial moraine at the final stage of the ascent to the tower's base, the 1-day hiking tour is manageable for most novice hikers, as well as those with less time to spare.
Adventure Tours in Torres del Paine
4×4 Tour in Torres del Paine
As a remote national park with soaring mountains, vast glaciers, and deep valleys, many are surprised to know that it's possible to see all of Torre's del Paine's highlights by 4×4. Not only is this an adventurous way for people with limited mobility to tour Torres del Paine, but it's also an adventurous way for visitors to make unique memories of the park. Expect to see all of the most scenic spots along the way, including the Torres del Paine towers, the Grey Glacier, and Salto Grande. To make the experience even more special, we recommend hiring a private 4×4 with a guide so that you can have complete control over your overlanding experience. There's no better way to discover the natural and geographical brilliance of this national park.
Horseriding Trek through Torres del Paine
Experience Torres del Paine through the eyes of a huaso (a Chilean cowboy) by embarking on a multi-day trek through the park on horseback. There are several tour routes you can take through the park, ranging from 3-8 days. Beginning at the Serrano River, the three-day Fjord Trail traverses through rivers, around lakes, into the forests, and past the Serrano Glacier, all while the iconic granite towers watch over you from a distance. On the longer horseriding tours, you'll have the chance to see more of Torres del Paine's lakes and glaciers and you'll even stop overnight at rustic remote estancias where you'll get a true taste of traditional Patagonian life — and its cuisine. Alternatively, opt for a more relaxed experience by simply roaming on horseback at your luxury hotel or estancia's private land.
Kayaking
Kayaking is another unique and memorable way to experience the wonders of Torres del Paines. In fact, it's one of the best places in the world to do a multi-day kayaking tour. You can opt for a two or three-day sojourn along the Serrano River, past the Serrano waterfall, and through dense forests as the Torres del Paine peaks watch over you. Along the way, you'll get the rare chance to kayak up close to the magnificent face of the Serrano Glacier to appreciate the unusual formations of ice and the myriad blue hues laced through it. Your guide will not only direct you safely through the park and encourage you to keep momentum, but they will also take the time to share their expert knowledge on the fascinating geography of your surroundings.
Grey Glacier Boat Tour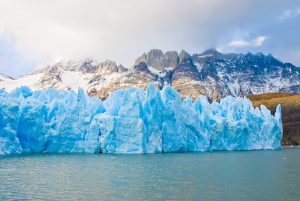 The Grey Glacier boat tour is the best way to see one of Torres del Paine's most famous glaciers whether you're limited on time or simply just don't fancy having to expend energy to see it! On the 45-minute ride, your captain will sail through a maze of giant icebergs to reach the 40-meter-high face of the glacier. This will give you the best opportunity to see its fascinating ice formations, admire its glowing aqua hues, and perhaps even watch an iceberg plunge into the sea as the ice calves. As the boat returns to the dock, you can sit back and reminisce on your glacier experience knowing that, instead of having to spend hours hiking or kayaking back, you'll be in the warmth and comfort of your hotel before you know it.
The Best Hotel Bases for your Torres del Paine Tours
Now that we have shown you the best tours in Torres del Paine, let us now introduce you to its very best luxury accommodations.
Awasi Patagonia
After long and strenuous days exploring the park, we believe it's important to return to a homely place where you will be pampered, served hearty local cuisine, and tucked into cloud-like beds for a restful night's sleep. For this, there's nowhere better than Awasi Patagonia. During the day, your very own private guide will lead you on adventures of your choice before you return to fill your bellies with chef Fabrizio Aciares' artistic gastronomy. At night, retreat to your private lodge amongst the pines for a drink beside your log fire. In the morning, you'll awake to bedroom views of the Torres del Paine themselves.
Explora Lodge
Located beside Lake Pehoe in the heart of Torres del Paine, the modern minimalist Explora Lodge is the perfect base from which to embark on great adventures in this part of Patagonia. As well as offering 8-12 night journeys across Torres del Paine and Patagonia, Explora also offers private hikes, horseback rides, overlanding expeditions, and more. Meanwhile, the lodge's soft minimalist interiors create an optimized atmosphere for full relaxation. Plus, views of the famous granite towers can be admired from the suites, lounges, and even from the bubbling jacuzzi in the Explora Spa.
Create your Own Torres del Paine 2023 Itinerary
From hiking to kayaking and horseback riding, there is a Torres del Paine tour for all ages, abilities, and preferences. This means that you can experience this iconic national park in a way that's most suited and meaningful to you. Whether you want to challenge yourself to a multi-day hiking tour, arrange an itinerary of exciting one-day tours, or simply find a luxury hotel that will lead your explorations, our Patagonia experts are here to help you create your ideal Torres del Paine itinerary for 2023. Contact Us by email or call us toll-free today on +1 855 217 9045 (direct on +51 84 656 421) to start planning your tailored trip to Torres del Paine.

Alternatively, check out our pre-planned Torres del Paine itineraries to see if they appeal to you more.